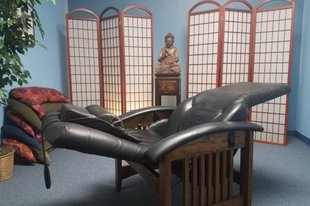 Meets the Second Tuesday of every month 6:45 - 8:00 PM PDT
Health and Happiness Through the Stillness Within
Do you have trouble sleeping? Are you stressed or experiencing anxiety? Do you feel "stuck" in your life and lack clarity for how to move forward towards your goals? Are you undergoing medical treatment for disease and wondering what else you can do to complement your treatment and support your healing?
When you come in for a Reiki session, you will relax into our incredibly comfortable zero gravity chair, which helps relieve tension in the body and allows for improved circulation. With lights dimmed and relaxing ambient sounds, the environment is sure to put you in a state of comfort and ease. During your session, I will place hands on or above the body in various positions, working intuitively to facilitate the balancing of your energy. You will deeply relax into your session, and feel refreshed when you leave. Many people report improvement after their first Reiki session, and the subtleties of Reiki healing can be cumulative, so additional sessions can bring increased benefits.
'The Reiki Connection'
A continuing study group for practitioners
'The Reiki Connection' is for those who have studied Reiki* in person with their teacher and have been certified at any level and of any Reiki* lineage. It is a time for meditation, self healing, attunements, community, and support with other practitioners and teachers.
This is a great opportunity for those who:
Have been attuned for a while, but have not cultivated your practice

Took a weekend class and your teacher sent you out into the world to 'heal'

Have questions and don't have access to your teacher

Want to gain a deeper understanding of Reiki and how it was widely practiced in Japan in the early 1900's
*Your Reiki lineage must trace back to Mikao Usui, the founder of Reiki
(ie: Mikao Usui > Chujiro Hayashi > Chiyoko Yamaguchi > Hyakuten Inamoto > Lisa Chapman-Sorci > Karen Miller)

If you have any questions, please feel free to contact me @ 916-572-8859
These are just a few of the reasons people seek Reiki treatment. Since Reiki is balancing on all levels - mental, emotional, physical, and spiritual - it can be effective for a wide variety of issues. Founded in the early 1900s in Japan, Reiki's foundation lies in the view that our health and happiness is a direct result of how balanced our energy is. When in balance, we feel calm and at ease. In imbalance, we feel tension in the body, and more likely to experience mental, emotional, or physical dis-ease. As our bodies return to a more balanced energetic state, the natural healing abilities within each of us can function at optimum levels. We start to sleep better, which leads to more periods of deep rest which our bodies need to heal.